Nostra Aetate Foundation Students from Thailand and Cambodia Complete Studies in Rome
by DID Staff
The Dicastery for Interreligious Dialogue recently celebrated the successful completion of course of study by three Buddhist students who came to Rome on the Nostra Aetate Foundation scholarship.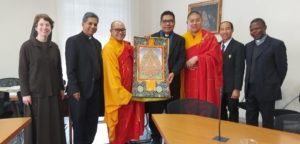 From October 2022 to February 2023, Mr. Puthesen San, Phra Panuwat Lerdprasertpun, and Phra Chaiyapat Boonpan studied at the Pontifical University of St. Thomas Aquinas and enjoyed various experiences in Rome and its environs.
The Nostra Aetate Foundation, created in 1990, promotes interreligious dialogue through education by granting scholarships to eligible people, followers of other religions, who desire to deepen their knowledge of Christianity through study at the Pontifical academic institutions in Rome, Italy.
The Students
Mr. San, a Theravada lay Buddhist from Cambodia, is a researcher and active collaborator of the Catholic Church in the field of interreligious dialogue, especially with the Dicastery's Consultor, Father Ing-Un Joseph Kang, SJ.
Phra Panuwat Lerdprasertpun and Phra Chaiyapat Boonpan, both teachers, are monks from Thailand of the Mahayana Buddhist tradition. They were recommended to the Foundation by the local Catholic Church of Thailand.
Studies and Experiences
The three students engaged in the courses: Fundamental Theology, Justice and Allied Virtues, Introduction to Buddhist-Christian Dialogue, all at the Angelicum; and the History of the Monastic Life in the Catholic Church at the Pontifical University of Saint Anselm.
They were welcomed by the Benedictine monastic community of San Anselmo.
They also engaged in regular lessons and conversation with officials of the Dicastery and their collaborators about the Second Vatican Council's decree Nostra Aetate, monastic interreligious dialogue, the history of interreligious dialogue in the Catholic Church, the Popes and dialogue, Franciscan spirituality, and the meaning of Christmas.
Mutual Appreciation
A highlight of their time was the experience of meeting Pope Francis and presenting him with expressions of their own religious tradition.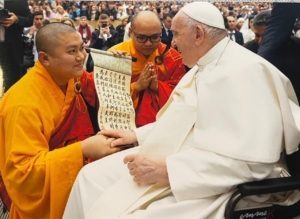 At the final presentation and conferral of the certificate of completion, the three students and the Dicastery's superiors and staff expressed their mutual deep gratitude for the inspirational experiences of learning and collaboration.