Dicastery visit to Bahrain extends dialogue with Muslim communities
by DID Staff
29 May 2023
The Prefect of the Dicastery for Interreligious Dialogue, Miguel Ángel Cardinal Ayuso Guixot, MCCJ, and the Bureau Chief for Islam, Msgr. Khaled Akasheh, traveled to Bahrain to participate in two important encounters aimed at strengthening ties between the Dicastery and religious leaders in the Muslim-majority country, as well as Muslim partners.
The encounters are "a new step on the journey between Christian and Muslim believers," as expressed by Pope Francis in his general audience November 9th 2022 after his visit to Bahrain, which marked the first time a pope had visited that country. Among other goals, this dialogue aims for concrete results by encouraging believers to work together on issues that concern our human family.
The first meeting of the Joint Committee for Interreligious Dialogue between the Dicastery for Interreligious Dialogue of the Holy See and the Muslim Council of Elders, established in Rome on March 6th, 2023, was held on May 23rd. "The Muslim Council of Elders is an independent international organization that was established…to promote peace in the Muslim communities. The Council unites Muslim scholars, experts and dignitaries who are known for their wisdom, sense of justice, independence and moderateness," according to their website.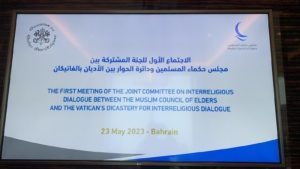 The Grand Imam of Al-Azhar in Egypt, Ahmad Al-Tayyeb, the Chairman of the Board of the Muslim Council of Elders, co-signed the "Document on Human Fraternity for World Peace and Living Together" with Pope Francis in Abu Dhabi on 4 February 2019.
The meeting on May 23rd focused on coordinating efforts to launch joint initiatives that promote understanding among people of different religions, in particular Muslims and Christians, including the support of initiatives to address the climate crisis.
In addition, the Prefect's and Bureau Chief's visit to Bahrain included a conference at the King Hamad Global Centre for Peaceful Coexistence, where Cardinal Ayuso addressed some members of the Centre's Board together with representatives of various Christian confessions and religious traditions. His Eminence's speech was entitled "The Catholic Church and Interreligious Dialogue: From Nostra aetate to Pope Francis." In his remarks, he showed how the idea and practice of dialogue has shaped the Catholic Church since the 1960s, receiving new dynamism from Pope Francis' emphasis on interreligious friendship.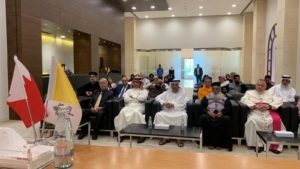 He remarked, "In fact, believers, following their own respective traditions, draw attention to the truth of the sacred character and dignity of the person. This is the basis of our reciprocal respect and esteem and the condition of service for collaboration for peace between nations and peoples, the strongest desire of every believer and every person of good will."
Cardinal Ayuso, along with Judge Mohamed Abdelsalam, the Secretary of the Muslim Council of Elders, thanked His Majesty King Hamad bin Isa Al Khalifa, the King of Bahrain, for inviting and welcoming the participants in this work of interreligious dialogue.
photos: Msgr Khaled Akasheh, DID