Cardinal Ayuso receives honorary doctorate from Islamic University in Indonesia
DID Staff
13 February 2023
13 February 2023 – His Eminence Cardinal Miguel Angel Ayuso Guixot, MCCJ, Prefect of the Dicastery for Interreligious Dialogue, was given an honorary doctoral degree by the Islamic State University Sunan Kalijaga in Yogyakarta, Indonesia.
The honor was bestowed to recognize Cardinal Ayuso's nearly lifetime efforts to promote interreligious dialogue and peace.
In his speech during the ceremony expressing gratitude to the university community for the honor, His Eminence stated, "In a pluralistic society, religious traditions and communities have an essential and unconditional responsibility to build up societies together, rather than dominate each other, to stand together for the rights of each and every one without discrimination, and to protect the inviolability of human dignity, so that all may prosper, rather than waste energy competing with one another for particular interests."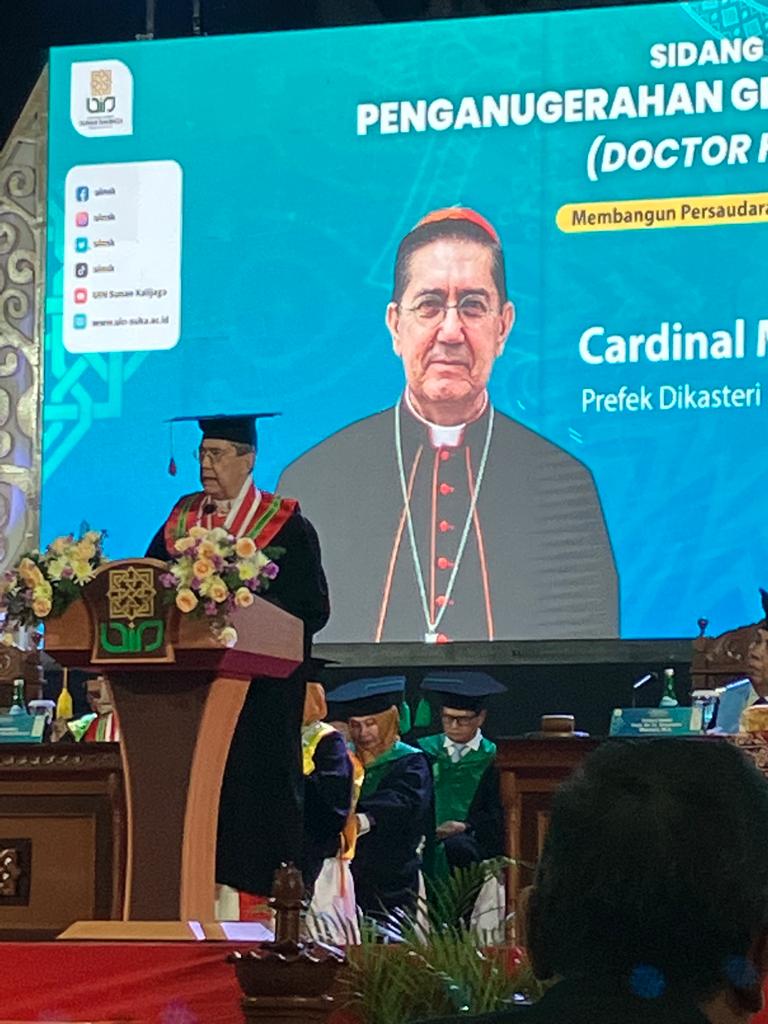 He thanked the Sunan Kalijaga Univeristy for being part of the solution of interreligious dialogue and cooperation in answer to the world's aggressions and divisions.
Honorary doctorates were also given to Dr. Yahya Cholil Staquf, Chairman of Nahdlatul Ulama (NU), and Dr. Sudibyo Markus, Former Chairman of Muhammadiyah. NU and Muhammadiyah are the two biggest Islamic Organizations in Indonesia.